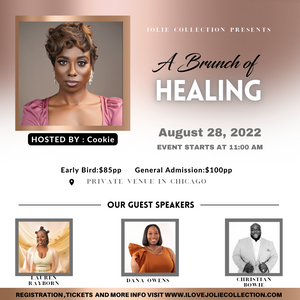 A Brunch of Healing (a message to my younger self)
Date: Sunday, August 28, 2022, Time: 11am-3pm Location: Private Venue in Chicago
In order to move forward in life and be the Best Version of ourselves we must HEAL from past trauma and hurt. Sometimes we experience things in life such as heart break, grief, toxic parents, toxic relationships and violations. Instead of Healing from those things we block them from our brain or so we think we've blocked them not realizing we are still affected by them.
At A Brunch of Healing, we will focus on identifying what is holding us back, what our triggers are, and how we can move forward in life. This will be a JUDGEMENT FREE ZONE to freely express yourself.
We will have 3 Amazing Guest Speakers who will share their journey towards healing.
This Event is for Women, Men, Young Adults, anyone who needs Healing. Perfect Event to bring your teenage daughter to, to pour into her and uplift her.
Tickets are Non-Refundable unless event is cancelled by Jolie Collection.
Early Bird - Tickets can be purchased at a discounted price until July 1,2022 

Sponsor a ticket- purchase of a general admission ticket for someone other than yourself to attend. You can let us know who you want to ticket to go to.
General Admission- Entry into event, food, mimosas, raffle ticket, thank you gift,