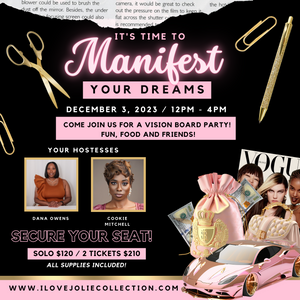 A Brunch of Visions & Manifestations is BACK!!!!
Join us on , Sunday, December 3,2023 
Time: 12pm-4pm Location: Private Venue in Chicago
What's Included?
Food, Mimosas, Raffle Giveaways, Thank You Gift, Cash Giveaway, All Vision Board Supplies
Limited Number of Early Bird Tickets Available Now, Secure your Seats before it's too late
See It, Write It, Do It.
What is a Vision Board Party?
A vision board party is a gathering of people who come together to create a visual representation of their goals and aspirations. Each person use magazines, images, and other materials that represent their dreams and desires. They then cut out and paste these images onto a board, creating a collage that serves as a reminder of their goals and the life they want to create. Vision board parties can be a fun and creative way to connect with others and get inspired to pursue personal growth and success.
3 Reasons to Attend Vision board parties
Attending a vision board party can be a fun and inspiring way to kickstart your goals for the year. Here are three reasons why you should consider attending one:
Community: Vision board parties are typically attended by a group of like-minded individuals who are all looking to improve their lives in some way. This creates a sense of community and support that can be motivating and energizing.

Creativity: Creating a visual representation of your goals and aspirations can be a fun and creative process. It allows you to tap into your imagination and explore different possibilities for your future.

Focus: By putting your goals and aspirations on paper (or a board), you are creating a tangible reminder of what you want to achieve. This can help you stay focused and motivated throughout the year, especially when the going gets tough.
No Refunds unless event is cancelled by Jolie Collection